SECTION 2:
Page 7
Remove the locator screw from the top of the ear at the front of the attachment over the bushing. Back out the roll pin retaining screw most of the way out. The bushing may now be removed. Examine the bushing for wear or breakage. These bushings are made of high speed steel and will take a lot of abuse. If the large face of the bushing is scored or scuffed, a quick stoning is all that is required for repair.
While the attention is on the plate, the idler gear shoulder screws should be checked for wear at the point that the gears journal on them.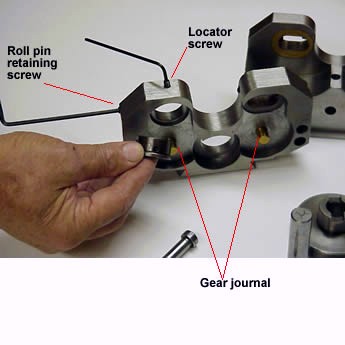 Check the smooth portion at the end of the locator screw. It should be round and true.